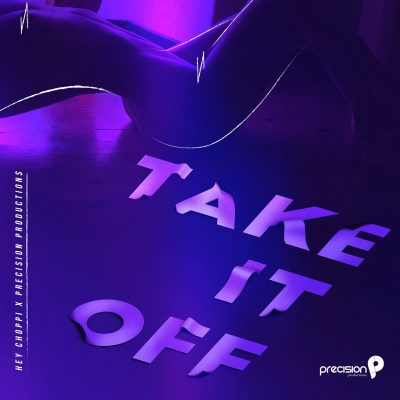 This is not a song for the fainthearted. In fact, it was created for those among us who feverishly embrace our wild side.
The fearless ones.
Those who live to surrender to passion, whenever and wherever it summons us.
In this single, listeners are brazenly encouraged by the tempting timbre of Hey Choppi's vocals and Precision Productions' sharply cracking rhythm, to "Take It Off".
The sexy lyrics and potent beat conspire and collide to drive us all straight past risqué and directly into the wickedly forbidden.
With lethal aim, the team is intent on bringing you to a stirring culmination, by invoking the reigning wanton triad of human pleasure points, through immediate oral, visual, and auditory satisfaction.
How?
Well with the simultaneous release of the salacious music video of the song, directed by none other than XOriginals.
Rest assured on hitting play that aching spot, you know which one, will be fired up but subsequently quenched before our 2 minutes and 50 seconds with you have passed.
Honestly, it isn't our goal to get you in trouble, but then again given the heated throb of this release, maybe it is.
After all the only relevant question to be asked and then quickly answered while this song plays is… who will you, be taking it all off for?