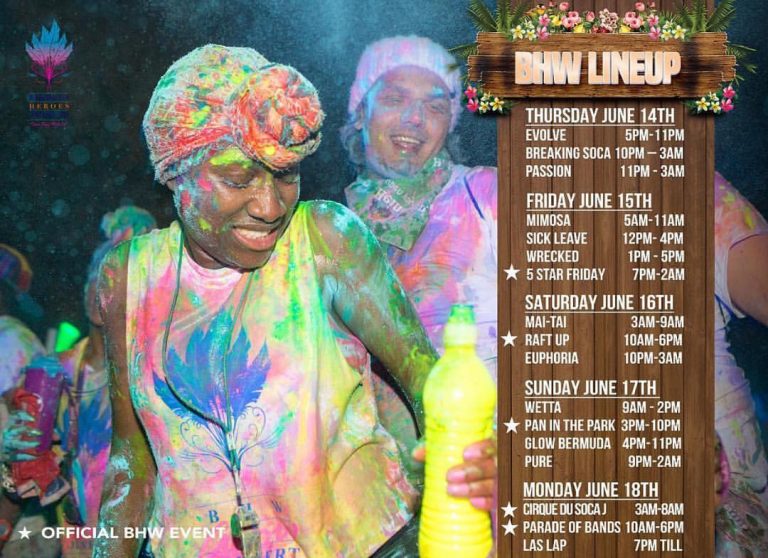 It's The #BHW2018 Line Up!
True Carnival people know that it takes multiple elements seamlessly aligning to make a festival spectacular. For a start you need a lively crew and unlimited drinks served with delicious bites like the kind supplied by the Bermuda Pie Company. More importantly, and maybe most importantly, to absolutely enjoy yourself, the events you attend have to be top notch and full of joyous vibes!

Luckily, from next week, until the last chord is played at Last Lap, the Bermuda Heroes Weekend Team is ready to flex their expertise, and bring you stellar events that showcase exactly why BHW is the fastest growing Carnival in the WORLD! In fact, no matter your age, your interests, or your past experiences, prepare for an unforgettable celebration set in the majestic isle of Bermuda.

5 Star Friday headlined by Kes The Band and Voice starts things off on June 15th. Doors open at 6PM and we are not stopping until the clock strikes 1AM! It will be held at City Hall Car Park. And you can expect many more talented performers onstage like Nailah Blackman, Shal Marshall, Lyrikal, Kerwin Du Bois and a few surprises to be revealed next week, alongside your favourite local and international DJs.

Next we are taking you to, Raft Up, an event unique to BHW and the heavenly Bermudian shoreline. This incomparable mix of sun, sea, sand, and soca takes place at Shelly Bay on Saturday, June 16th from 12PM to 6PM. It is the ONLY event where you can party in the waves, on the sand, or out in your boat, with a massive floating sound system. As added incentive, anyone who joins us by boat does so FREE of charge.
Pan lovers, we have you covered the day after. On June 17th our beloved traditional family day, Kiddie Carnival combined with Pan In The Park! This starts at 3PM and goes until 7PM. The event kicks off with a carnival for kids from ages 5 to 12. Then we will be entertained by local steel pan artists, including many skilled youngsters, in the stately and magnificent foliage inside of Victoria Park in Hamilton. Come be a part of the live audience delighting in the enthralling tones of memorable pan music, all for FREE.

Few can resist our summons to the next event on our line up. Happening at Bernard's Park in Hamilton, BHW's Cirque Du Soca J'Ouvert, is a call to liberate yourself in the moonlight until the break of dawn. This irresistible blend of wicked fun and delectable madness offers patrons 5 different sections to play in. Cirque Du Soca goes from 3AM until 8AM, but is strictly for those 18 years and over.

This all leads to the final massive parade, which starts at 10AM on Monday June 18th. Where costumed bodies will shine effervescently as they jump and gyrate from Clearwater Beach onwards. Party People, Nova Mas International, Passion Presents Nirvana, and Code Red are the four big bands out on the road for this immense culmination of the festivities.

And for those who just cannot have enough, the BHW team will host their Last Lap at Clearwater Beach from 2PM until 10PM after the Monday Parade. Join the full team as we all celebrate another successful Carnival in Bermuda.

Get your crew, and your family together and have a great time this year, at any or all of BHW's signature events. It is time once again to Come Play With Us for 2018's Bermuda Heroes Weekend. See you there!