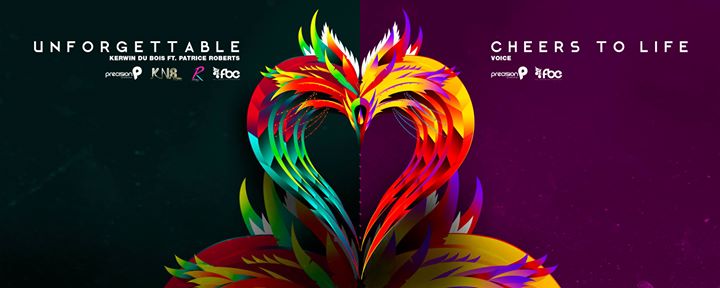 Precision Productions says Cheers To Life, 2016 will be Unforgettable!
Have you missed us? We certainly missed creating for you! To show you just how much, we are back with a two-in-one first release that will set your wining mode straight to Soca. 
It is one pulse, two songs, and three honeyed voices artfully blended under the Precision Productions banner, to give you our loyal listeners an "Unforgettable" sound, which will have you rhythmically saying "Cheers To Life" all season long.
Nothing compares to or is more treasured by revelers than making joyful Carnival memories with those we care deeply for. This is a truth that Kerwin Du Bois alongside Patrice Roberts know all too well, and passionately express with true finesse on their track. Kerwin also co-writes this one with Aaron "Voice" St. Louis of Full Blown Entertainment, and working together they colourfully describe the poignant emotions these annual celebrations evoke as well as the unbreakable bonds they build.
These are transcendent pleasures, which are often taken for granted in today's world. But for Voice, the blessing of being able to sing and write his own Soca song fills him with a sense of gratitude and deep-seated joy. Feelings he conveys clearly in every lyric and tone. His uplifting tune is pure melodic encouragement and an optimistic sign of things to come from this artist. The time away may have been long but it was undoubtedly well spent by the Precision team. With newly gained skills and the desire to turn Carnival 2016 into one of the best ever enjoyed, our fans should definitely get themselves ready for the thrills and excitement in store for them.
Watch the Cheers To Life Lyric Video Now
Watch Unforgettable Lyric Video Here!