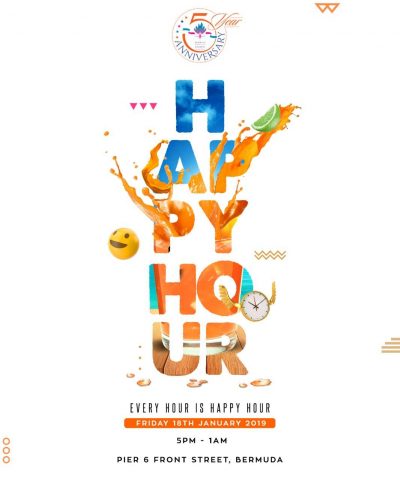 Make New Friends at BHW Ltd.'s HAPPY HOUR!
This is it! It's the Friday you have been waiting for since last year. BHW Ltd. is setting off their Official 3-day Launch for Bermuda Heroes Weekend with their incomparable, Happy Hour!
You should know immediately that Bermudians do drinking during Happy Hour a bit differently. 
At most hosted Happy Hours, non-Bermudians provide drink specials, a well-staged venue, and then they pretty much leave you alone to muddle through and figure out your own path for the night.
With Bermudians and even more so the BHW Ltd. team, they are deeply invested in ensuring your rapid journey to the land of happiness, as well as your permanent residence there while their Happy Hour flows on. 
How exactly do they do that? We are glad you asked.
As we feel it is our responsibility and pleasure to prepare you for our signature evening of pure bliss. To do this we have gathered together a few drinking guidelines specific to this Friday's exhilarating event. 
You should pay very close attention right now. This is not just your insider's preview, but it is also the only guidance (warning really) you will receive before you venture into the world's most memorable Happy Hour.
First thing to note… if someone hands you a coaster they are your new best friend. Why?
They just bought you a free drink of your choice at the bar. Your next step should be a warm thank you as you head off to see your friendly neighbourhood bartender for more details.
The next bit of insider information is this. All bars in Bermuda have a loud bell playing a prominent part of the décor. This is important. For if you are standing at the bar and that mysterious bell rings, one more new friend just bought you one more free drink! Your now bestie-bartender will hand you a coaster and you can immediately cash that in or hold on to it, for your favourite drink!

Also, at some point during the night you will hear, "Shots on me!"
And YES, it is yet another free drink. But this time, you have to drink whatever shot the buyer is drinking. Good Luck!
Oh! There is one more thing.
Never and we mean NEVER put your back to the bartender, while you are at the bar. Order your drink and keep it moving. If the bartender catches you taking up space and presenting him with your back, tradition dictates that the next round for everyone at the bar is on YOU.
By this time you should have a firm grasp as to why before twilight hits on Friday you will be soaring through the sky, and wondering why you did not arrive at Pier 6, Front Street sooner. Make sure and do not be late. The fun starts promptly at 5pm.
Another high-spirited adventure brought to you by BHW Ltd. We cannot wait to see all of you strangers become best friends this Friday at HAPPY HOUR!
Entry is FREE before 9PM, and $10 after!
Media Contact:
Jason Sukdeo
jsukdeo@bermudaheroesweekend.com
441-300-1049