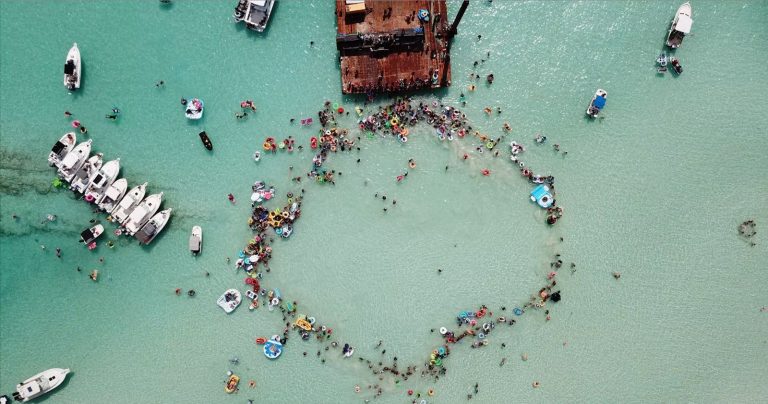 It's TIME to PARTY at the BHW RAFT UP!
Wherever you are, whatever you are doing right now, STOP. Give us the next 5 minutes of your time and we will submerge you into a scene out of your wildest dreams. Except, this dream can be your reality at The BHW Raft Up!
Now, take a deep breath and let the salty-sweet sea breeze of exotic Bermuda fill your senses as it cascades lovingly against your skin. Lean into this breeze and listen, as the hypnotic sound of Soca music invites you to bring your body closer to what you instinctively know will be an insanely good time.
Follow us through the lush greenery that secludes the stunning slice of paradise known as Shelly Bay, where your toes disappear into soft pink sands, your hips start to groove to the mellifluous beat, and your eyes swallow up the crystalline blue waters, which gently lap the picturesque shoreline.
To this add a massive music truck floating just beyond the shore, chockfull of international and local DJs, who only want to keep you smiling all day long. This exclusive event is only held once a year at Bermuda Heroes Weekend. That means you only have access to this unbelievable site to party hard on June 16th from 12 pm to 6 pm.
And to be certain that things go smoothly we have security in place to prevent the use of any glass bottles or weapons at the event. The BHW team is doing all we can to keep everyone, the community included, safe and happy as our unique Soca fete meets beach day goes on.
Tickets are already on sale for just $15! Get them now because from June 1st, they go up to $20. Extensive parking is available at Shelly Bay field, and if you do not want to drive, hop on the bus, it will bring you right in.
Note that this fee only applies to everyone joining us on the beachside. To those of you so inclined, you can join the fun seaside on your boats for FREE!
Can't swim? Do not worry! The water between the beach and the floating sound system is shallow enough for you to comfortably, walk, dance, sway, and shake in glee.
All are truly welcome.
Mark it on your calendar, June 16th, BHW Raft Up!
Come live the dream, where pumping soca meets blush coral sands and the sparkling cerulean sea.
For more information on Bermuda Heroes Weekend, visit bermudaheroesweekend.com or follow us on Instagram, Facebook and Twitter.