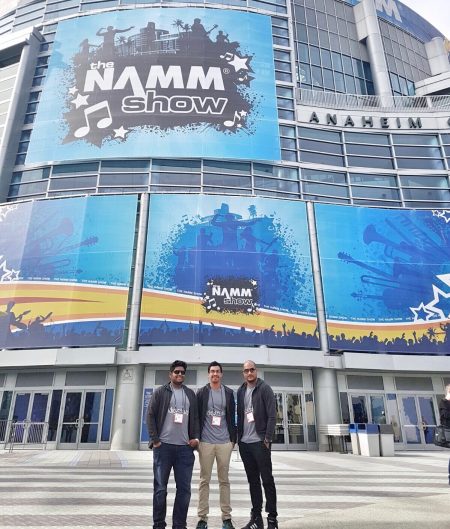 Indigisounds and Precision Productions debut first ever Soca Sample Library at NAMM in Los Angeles!
From January 19th to 22nd 2017, Indigisounds and Precision Productions will be making their debut and hosting their own Booth (Number 201C22) at the National Association of Music Merchants (NAMM) trade show in Los Angeles.

It is at this trade show they will be launching the first ever Soca sample library, Soca Starter Pack – Volume 1 by Indigisounds and Precision Productions. A collection of sounds that is unique to this genre and a feat, which has never before been done or presented at NAMM. This is truly an impressive and monumental step toward bringing Soca with all of its rhythmic intricacies to the entire musical universe.

Especially since, this trade show is widely considered as the holy grail of any music manufacturer who wishes to exhibit their products directly to this specific audience. It is held annually in the Anaheim Convention Center, L.A., and boasts of over 100 000 visitors every year consisting of distributors, resellers, and music enthusiasts.

Representing our culture and music as exhibitors at the show are Johann Chuckaree and David Chow co-founders of Indigisounds, and Kasey Phillips of Precision Productions.

Indigisounds are young visionaries who understand that in order for the world to hear and become involved in our indigenous music, they must first have direct access to it all. To that end they have created multiple musical sample packs that give global producers and musicians hands-on contact with the sublime elements of our original sounds.

Teaming up with them on this mission is Precision Productions one of the most notable and elite Soca and music production houses out of the Caribbean.

Together they will be promoting the musical sample packs created by Indigisounds and their many collaborators, and doing so in a format widely known and used in the music production, composition, and arranging domain.


Along with the one of a kind
Soca Starter Pack
these include,
Indigisounds Steelpan Samples
, the largest and most authentic Steelpan sample library; and the exclusive sample library of Trinidad and Tobago's percussion co-created with Jus Now and Laventille Rhythm Section,
Indigisounds and Jus Now present Laventille Rhythm Section
.
With these sample packs production houses around the world can now combine our local music with their own.
This undertaking has been an exciting one for all involved and it is the first time a company of this kind from the Caribbean will be exhibiting such local products at this prestigious event.
Johann, David, and Kasey are well known in their specific fields and are sure to give a great showing as they interact with so many well placed world musical connections, once again positively putting who we are and our culture on the world map.
So if you happen to be in the area, be sure to stop by and support Team TnT at NAMM this week.
This awesome task would not have been possible without help from many supporters and friends alike.
Special mention and thanks must go out to, Jus Now, the Laventille Rhythm Section, Precision Productions, Steelpan Tuning Facility, ExporTT Ltd., and Caribbean Entertainment Technologies Ltd.
Want to see more and get the details on this unique Starter Pack, click here:
Indigisounds and Precision Productions Soca Starter Pack