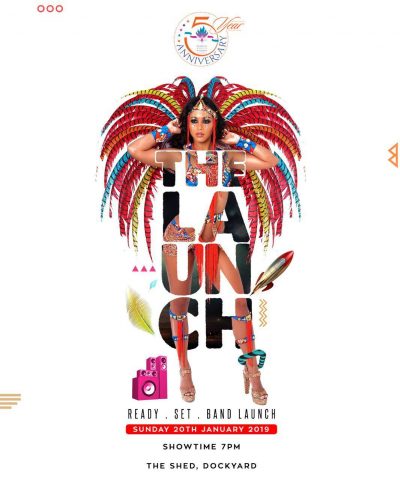 Here Comes the Parade of Bands!
Hamilton, Bermuda – January 9th, 2019

Many of us often imagine ourselves as kings, queens, and rulers as we parade along the festival road. Antsy, we spend months waiting for the opportunity to transform these visions into reality. Then, just as it seems as though the wait is too prolonged, thankfully, BHW Ltd. announced their 3-day Official Launch from January 18thto 20th. The first event to allow us an in-person glimpse of the royal garb that will adorn our bodies and catapult us into becoming the kings, queens, and soon, rulers of the road we have been craving to be.

For 2019 every masquerader, no matter what band they choose to sign up with, will be a part of an innovative dynasty. Since, NOVA Mas International, Code Red BDA, and Party People Mas have all already awed and entertained worldwide audiences with their eye-catching costumes. That ability to pull participants from across the globe in the past has them all keen on repeating this remarkable experience yearly. This kind of motivation fuels designers to dig deep and showcase their best ideas, in an effort to entice those who are longingly anticipating the day, when they are once again, royalty on the road.

NOVA Mas International gives us the presentation, REVELATIONS…The Lost Civilizations. On this transcendent voyage, you will discover an astonishing truth. The great civilizations we have all revered, never vanished, they were simply transformed. They guarantee a magical journey, where masqueraders following the signs, will surely fulfil an ancient prophecy.
Spilling beyond the sea and throughout the four corners of the earth, Code Red BDA is drawing from the vibrant light of our blazing sun to lift masqueraders to heights and pleasures untold. With a hypnotic rhythm that seduces through time and space, over the lands, within the seas, and flowing in the air, their production, Natural Mystic, promises energy and heat as no one else has ever put on a show before.
Seductive, yet sinister, Party People Mas are pulling no punches as they deliver sensual savagery with the raucous energy of their exhibition, Beautiful Beast. Masqueraders can choose to slay or be slain, as they commemorate their 5thanniversary, with an ode to beastly olden folktales. The ones that forever captivate our thoughts, and whisper about deadly dark women of exceptional beauty calling men to their blissful unrepentant doom.
These three bands have delivered the kind of difficult decision BHW Ltd. is happy to facilitate for you annually. While the world watches, green with envy, YOU will have the marvelous opportunity to see these sparkling costumes, all with daring themes, in person, in less than two weeks.
You cannot miss this moment to give life to your imperial fantasies. Buy your tickets now and show up to make your regal selection. As BHW Ltd. once again offers up the empire of the road for you to march upon.
Media Contact:
Jason Sukdeo
jsukdeo@bermudaheroesweekend.com
441-300-1049