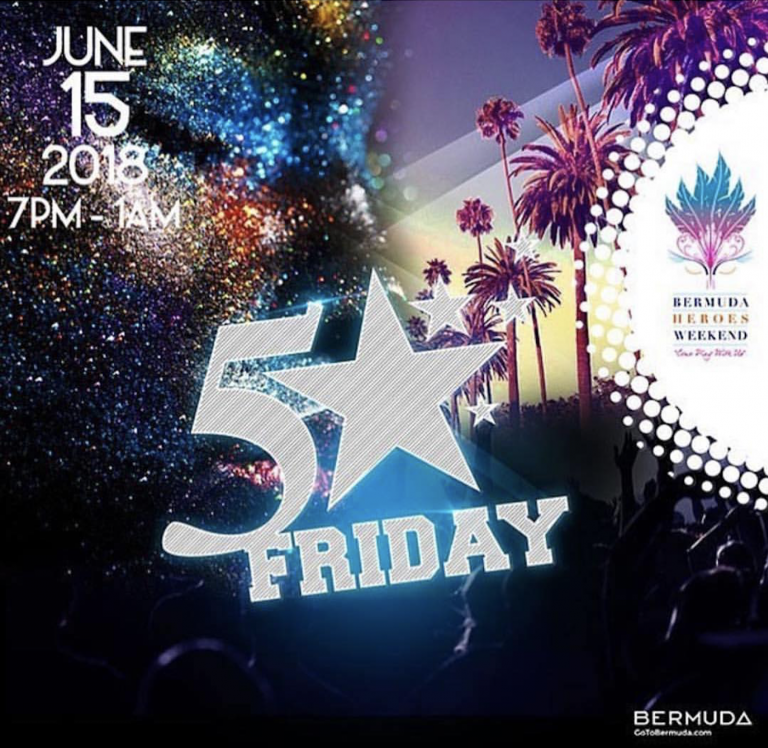 Five Star Friday is almost here, Are You Ready To Shine?
Just ONE more week and the BHW Ltd. team will have the Soca Superstars of the Caribbean aligned and ready to light your bodies afire. Because according to our faithful followers if there is a single event, which will spark off that festival feeling in your soul, 5Star Friday is it!

This year it takes place on June 15th at a new venue, City Hall Car Park, which puts patrons closer than ever to the star-studded cast.

Speaking of the cast, headline act KES The Band are confirmed plus delighted to bring their energetic show to Bermuda's Heroes Weekend. From "Wotless" to "Workout" to their smash 2018 hit "Hello" on the Folklore Riddim, the full band will be in attendance to have everyone rocking from the word go!

Let's be honest, experiencing this full band would be enough, but with our team enough is only the beginning. After all, the goal of BHW Ltd. is to have our loyal supporters jumping with excitement at every event. Which leads us to the other celestial talents that will be onstage this dazzling night.

Voice, the triple Soca Monarch of Trinidad is also confirmed for 5Star Friday. His soulful anthems and pore-raising performances have left audiences around the world stunned and overflowing with emotion. This is your chance to be there and feel his energy pouring out and over your soul as he sings with his mighty voice straight from his heart.

And yet still BHW Ltd. is giving you MORE!
With arguably some of the most beloved soca songs ever, Kerwin Du Bois, will blaze into the night with "Touchdown", alongside Shal Marshall singing the unstoppable "Splinters", and BHW veteran Lyrikal who will be showcasing all of his "Rude Wayz" as he makes the ladies engage in a "Criminal Wine".
Also keeping the momentum buzzing will be St. Lucia's Teddyson John as he demands that you "Gimme Dat" along with the granddaughter of the man who created this beloved genre, Nailah Blackman, crooning her massive tune "Sokah".
Guess what? There is still more!
The DJ lineup is one of the most creative and versatile that Bermuda Heroes Weekend has ever seen. The home team consists of DJ iBreeze and DJ Chubb, and they will appear along with South Florida's best Ryan Sayeed and Barrie Hype.
The big bad squad of Back 2 Basics and Tony X from NYC are also en route, in addition to the feisty force of Jester and DR. Jay all the way from Toronto.
Now that is a galactic ensemble of live music. Doors open at 6PM and we keep going until you cannot take any more exhilaration or 1AM, whichever comes first. To keep things as safe as possible, we will be separating those who are Under 18 years of age from the Adults.
Tickets are on sale. Get them NOW, because they definitely will not last. If you have purchased your ticket already, be sure you download or print it before you arrive. You'll find the emails in your Junk/Spam folder if you don't see it in your inbox. Free parking is available at Bull's Head Car Park, and VIP parking is available at Par-la-ville Car Park.
For any more information and to purchase tickets, head to
www.bermudaheroesweekend.com
.