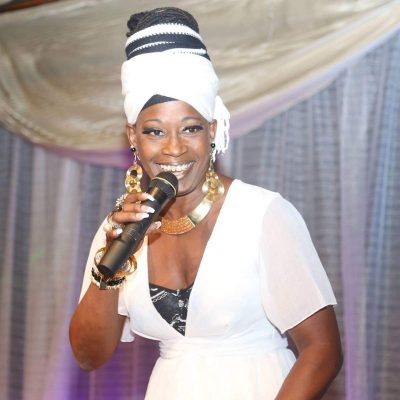 Empress Natty Shines as a Cultural Icon
Fierce and talented, Empress Natty has conquered many challenges to become the bastion and beacon of Trinidad and Tobago culture she is today.
Born and raised in Rose Hill, Laventille, Trinidad, Natalie Joseph-Settle learned early on she would dedicate her life to representing her beloved culture onstage. Her training began with the Northwest Laventille Cultural Performers and continued under Carol La Chapelle's Dance Troupe and then at Ballet Creole Canada, where she earned a scholarship to further her studies in dance. Later on, she taught and toured as a distinguished member of the Malick Folk Performers, where her mesmerizing skills as a Limboist, Actress, Dancer, and of course Singer were fostered. During her time with this world renowned and recognized troupe, Empress Natty, received many accolades, including, Best All-Round Performer, even as she was a frequent finalist in the National Limbo Competition, and traveled the world showcasing the culture of her homeland in Italy, Japan, Canada, Singapore, Malaysia, and Santo Domingo.
A particularly noteworthy highlight occurred when she was the Dance Director of the Malick Folk Performers and choreographed the entire production for the Juniors of the troupe, winning the Children's Cultural Festival in Cuba with 'My Pickney'.
Natalie lives to bring joy to others and strives every day to be the very best version of herself, no matter the situation. This was clear during her time as the first Limbomama in the Universoul Circus, USA. She learned many life-changing lessons there, including how passionate she was about showing the world the undeniable elegance and beauty of her Trinbagonian culture. The experience also gave her the impetus to remind the world of yet another skill she honed over years on stage, singing.
Already, she has released quite a few singles, all highlighting her love affair with her heritage.
Today, she is taking yet another step into her future, vocally, and with her songwriting abilities in order to uplift and encourage those around her.
'Exhaustion' is her latest release, as well as her first ever music video.
In it she tells the story of life through the eyes of a mother, and a woman who has committed herself toward being a living vessel, for the truth and power engrained in her DNA.
Compelling and thought provoking, it displays Empress Natty's devotion to the culture that has nurtured her into the force of nature she is today.
Without a doubt, Empress Natty has only just begun and will fulfill her immovable destiny as a true icon and proud representative of Trinidad and Tobago.