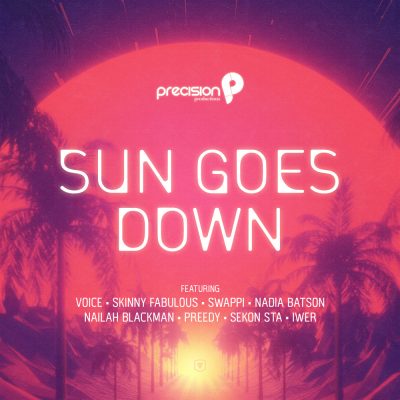 Before The Sun Goes Down!
8 Electrifying Artists on 1 Power Song…
Absolutely!
Never achieved before in Power Soca…
Definitely!
Another Precision Productions musical experiment done right…
Guaranteed!
With a sonic explosion of hands, rags, flags, and everything else thrown up in the air, Precision blasts their fans into the realms of history with a one of a kind release.
For this, a melting pot of extravagantly talented artists worked hand-in-hand to deliver a richness of sound never before imagined in the Power Soca arena.
Rhythmically linked and melodically united, the effort created more than just a song.
It in fact represents the festive heights possible, and up until now, seemingly unattainable as we celebrate this time of year.
As the unprecedented vocal abilities of Preedy, Sekon Sta, Iwer George, Nailah Blackman, Nadia Batson, Voice, Swappi and Skinny Fabulous were finessed into an adrenaline-charged thrill ride just for YOU!
Its addictive percussion beckons, while the accompanying intoxicating beat energetically surges up your spine, charging limbs and swelling souls with this season's indefinable joy.
When you hit that play button, if you were not already in the groove of Carnival 2020, we can guarantee that before the
Sun Goes Down
… you will be!